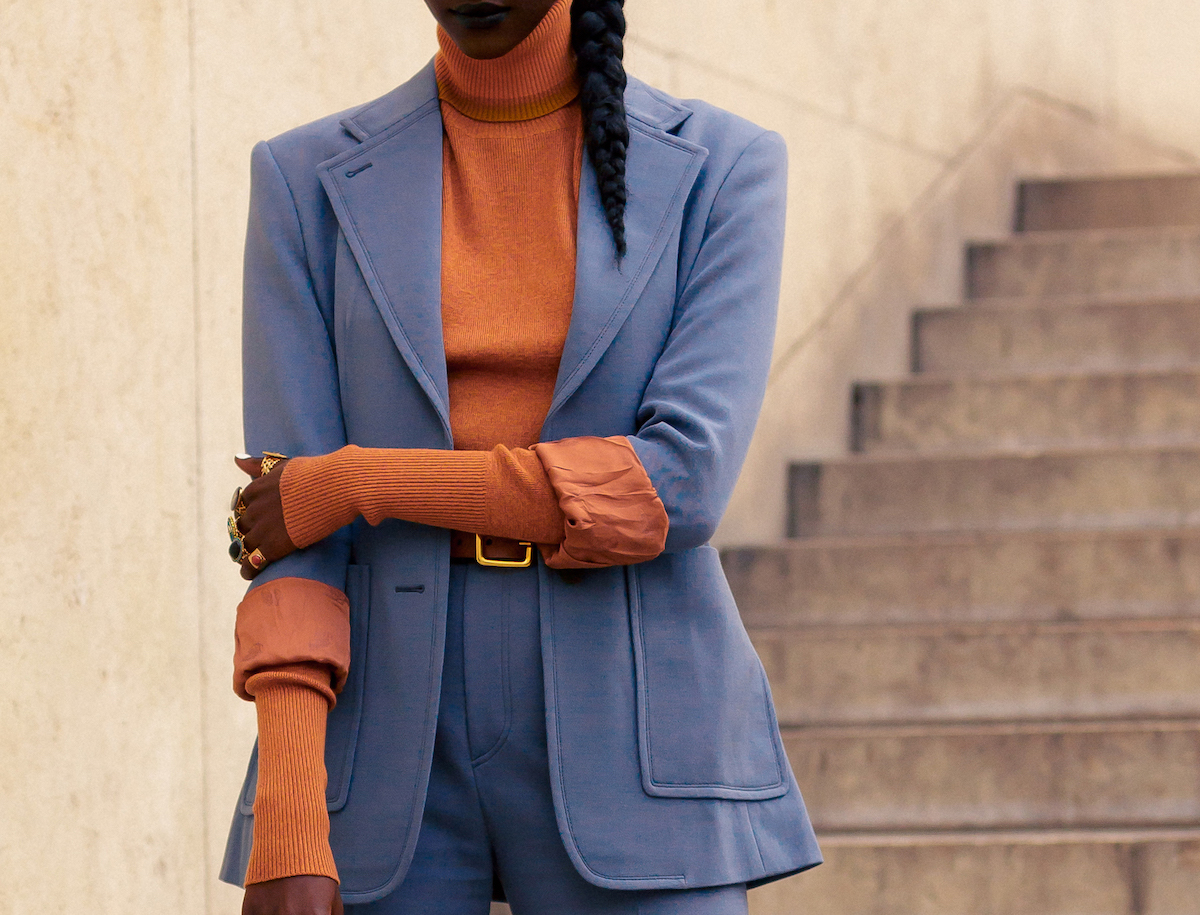 Photo courtesy of Darrel Hunter
4 Looks to Get You across
the 2020 Finish Line
In partnership with our friends at Veronica Beard
What's better than your birthday falling on a Saturday? When the holiday calendar strikes day-off gold. Even if you don't celebrate, Christmas generally kicks off a much-needed break that lasts till New Year's—and this year it's perfectly positioned to give us a mini vacation. We'll be taking the time to get out of sweats, log off of Slack, and ease back into dressing as we once knew it, starting with the winter break looks below.
on camera
Your favorite people deserve better than a button-down pulled over your sports bra. Opt for a top with micro pleats, trousers you'll want to show off when you stand up to refill your glass, and simple sneakers that balance the prim blouse. As for the details: High-shine accessories and a swipe of creamy cheek tint look even better under that ring light you bought back in April.
ON TASK
The black boots and coated denim are so cool-girl-gone-casual and the checked jacket and hunter-green knit are so exquisitely seasonal without feeling twee that this outfit fills in the blanks all break (and all winter) long. Tuck your hand sanitizer and extra mask in a tote, then hit the errands circuit safely.
ON FIRE
Quarantine crews, pods, close family—chances are anyone you've been locked down with this year has seen you at your worst, so give them your best intimate party look: a sexy blue velvet suit, striking sapphires, and a deep-cherry lip. And those pointed-toe kitten-heel booties? They'll look as smoldering on the streets in 2021 as they do in your house on NYE.
on couch
Wide-leg lounge pants are the opposite of schleppy but just as comforting as sweats (the G. Label team did a deep dive to come up with this pair, which is pretty perfect). Whether your climate calls for a pullover, a puffer, or both, make sure your bottom layer—here, an irresistibly soft Henley—works as well for beach walks as it does for binge-watching.
---
We hope you enjoy the products recommended here. Our goal is to suggest only things we love and think you might, as well. We also like transparency, so, full disclosure: We may collect a share of sales or other compensation if you purchase through the external links on this page.