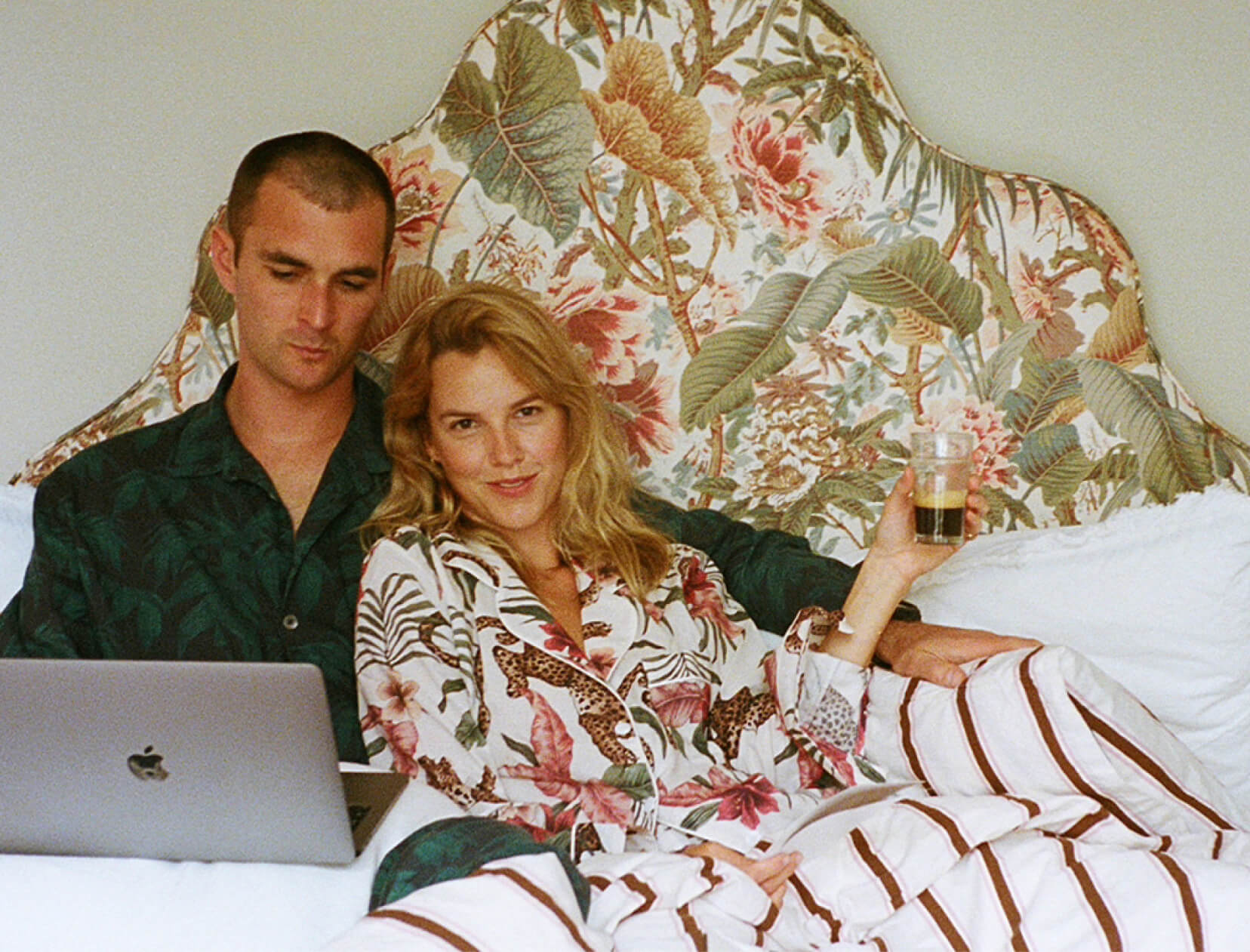 Photos courtesy of Lucy Laucht
Love, a Stained Shirt, and a
Luxurious Set of Pajamas
There are two types of people in this world: 1) those who sleep in loose, oversize T-shirts and 2) those who
prefer perfectly matching pajamas. Molly Goddard and Joel Jeffery don't just prefer the latter; they are religious
about them. So it makes sense that they are the brains behind the beloved goop-shop brand Desmond and Dempsey, a hyperluxe sleepwear line based in London that started with one of those charming love stories. You know, the kind
where the girl steals the guy's sleep shirt one too many times at the beginning of a budding,
let's-see-where-this-goes romance. Where it went is here: tigers, Bloody Marys on Sundays, and one big
happily-ever-after IRL pajama party.
20 QUESTIONS WITH MOLLY GODDARD AND JOEL JEFFERY
Where did you two first meet?
MG: I was nineteen when we met. Joel had finished university and was doing a
second gap year in Whistler. In Australia, our summer breaks are in December, so I went on a ski trip to
Whistler. I remember my mum and dad came out to get me and bring me home, and I was like, "Nope, I'm not going."
JJ: We met a couple of days later through a friend and hit it off. Eventually,
Molly went back to Australia, and I came back to London, and we did long distance for two years.
MG: I finished my last semester in Madrid, and Joel's work happened to have an
office in Madrid—it was sort of meant to be.
And when did Desmond and Dempsey come along?
MG: When I moved to London from Australia, I ended up moving in with Joel and his
three mates—it was a boys' house. And the English can be, no offense, a bit prude-y. In Australia, you wear
little singlets and shorts to sleep because it's so hot. And so I'd wear my pajamas around the house, and Joel
would be like, "You can't wear those in front of my friends—absolutely not."
JJ: I mean, the boys all loved it. It was great.
MG: So then I'd throw on Joel's work shirts. Joel is very neat, whereas I'm a bit
clumsy—not in a cute-girl way but in an orange-juice-down-the-front-of-my-shirt kind of way. Eventually, he told
me he wanted to treat me to some pajamas. I remember going to Selfridges and not being able to find anything
well-priced that you didn't have to dry-clean. So I thought, Well, why don't we make our own pajamas—how hard
can it be?
JJ: Turns out it can be very hard. It took us about a year to figure it
all out. The sleep industry was growing really fast at that time: The direct-to-consumer mattress brands were
getting big, and more people had started working from home. We sold a couple to our mums, and then sold a few more…
MG: Eventually Bergdorf Goodman and Selfridges reached out.
What's it like working with your significant other?
JJ: It's awesome, really. We've gotten to do so much cool stuff that we wouldn't
have gotten to do otherwise. I honestly don't understand how people start companies when they're not in
it together.
MG: Especially in the beginning, Desmond and Dempsey was all we wanted to talk
about. Even on family holidays, we'd get so obsessed with the place we'd travel to that we'd ask Joe's brother,
Christian, who is a beautiful artist, to create a Desmond and Dempsey print based on that place. Our lives are
so wrapped up in it.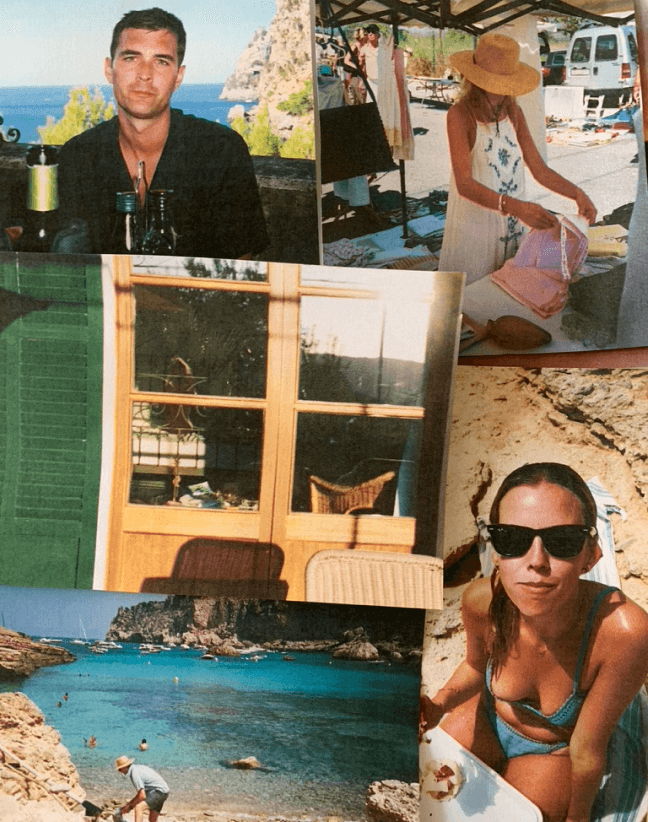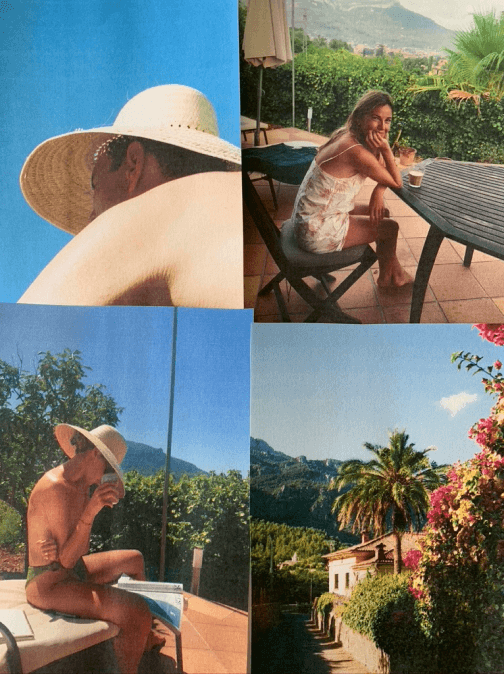 Now that travel is on pause, what's keeping you guys inspired these days?
MG: We've been so lucky to have the opportunity to travel together, and it's been
fun hanging up all of our photos around the house. I've been getting so reinspired that I would end up wanting
to redo the whole brand! And it's been really cool to see how people around the world are wearing our pajamas at
home, too.
JJ: Our new collection is based on an extensive library of travel books. My
brother, Christian, found this artist in Japan to collaborate with, so he drew the prints and reinvented them for
Desmond and Dempsey using traditional calligraphy. It's pretty amazing.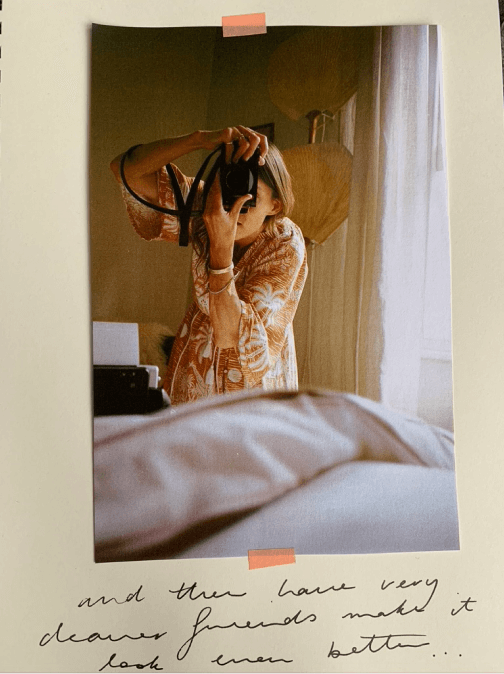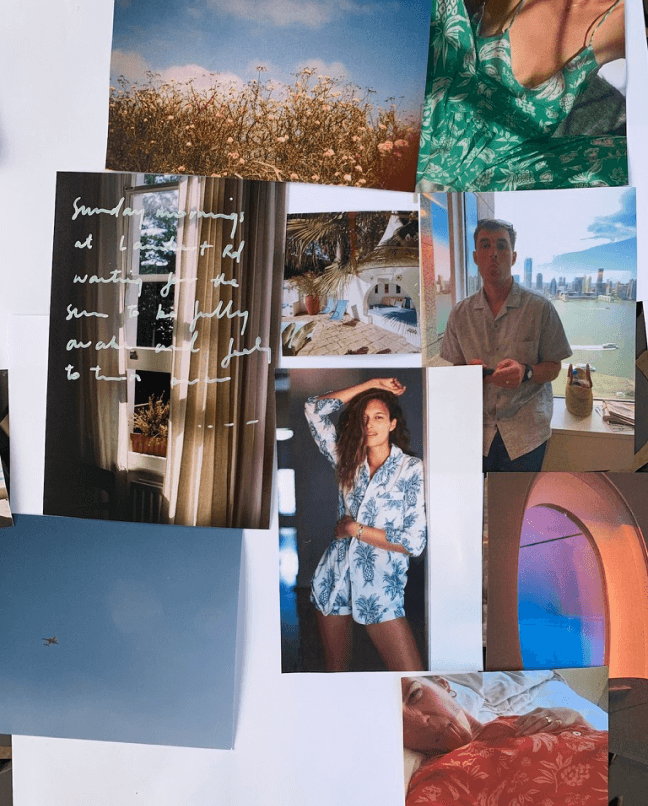 Do you find that you complement each other creatively?
JJ: We bring different things to the table, for sure. Molly is definitely the
creative one.
MG: Yes, but Joel is the decision-maker. Once he makes up his mind, he sticks to
that decision, whereas I can never make up my mind.
How has it been spending so much time at home this year?
JJ: I had big plans. I even bought a piano, but that got put on hold.
MG: Honestly, when you can't do much of anything, it's all about making something
out of nothing. We're quite passionate about celebrating life at home: making the ordinary an extra-special
thing.
What are some ways you try to make at-home time special?
MG: Lighting a candle on a Sunday morning at a time when you'd never normally
light candles and making BLTs and Bloody Marys. We've got into this habit of doing Friday-night picnics where we
get fish and chips and have a little date night. It's the intimacy of those moments that becomes really special.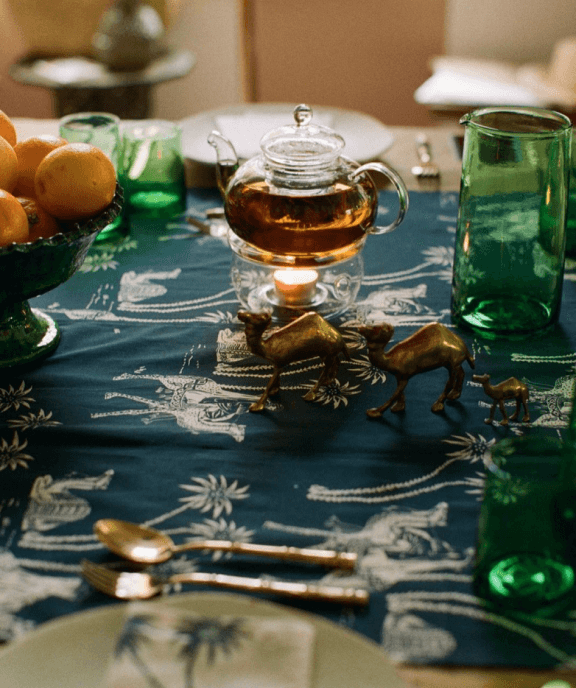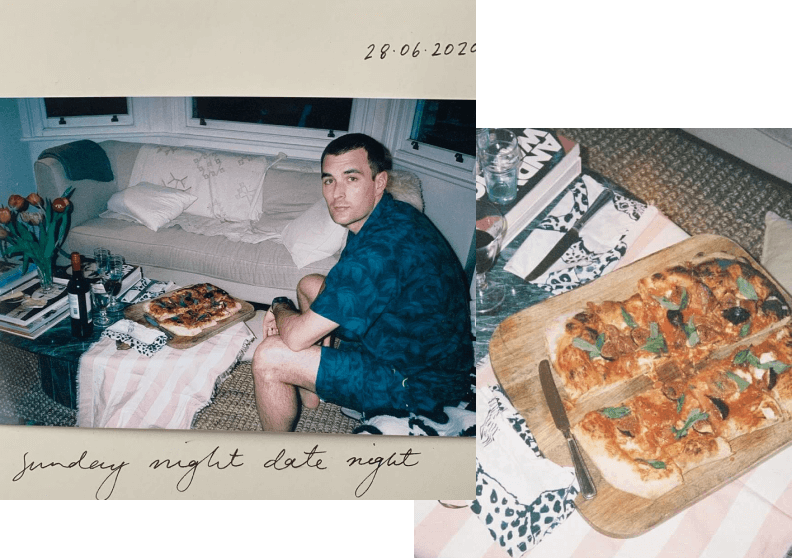 Do you prefer working from home in your pajamas?
MG: It's really about the feeling of slipping into them to signify the end of
your day. They're fancy pajamas—they're not going to change your life. But they do make you feel like
you've got your sh*t together. It's like smoothing on the good oils and using the nice bath bombs in the bath.
JJ: I enjoy the ritual of coming home and getting into them—that's the
bit that's always appealed to me.
What's the meaning behind the name, Desmond and Dempsey?
MG: It's named after our grandfathers. It was supposed to be a secret, but it's
the worst-kept secret in the world because I tell everyone. My grandad wears his Desmond and Dempsey
nonstop—it's so sweet.
Tell us a little bit about your creative process.
JJ: Everyone at the company has a real value for creativity and an appreciation
for it. We assumed every business operated like that, but I don't think that's always the case.
MG: It's honestly kind of ridiculous how much time we devote to the process. We
spend months making our prints. Christian and Ana on our team paint for four weeks every season. No computers,
just painting. For me, that's the fun of it.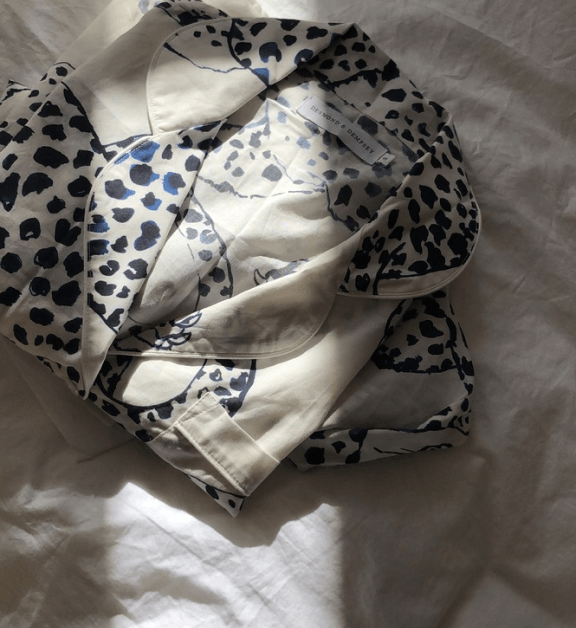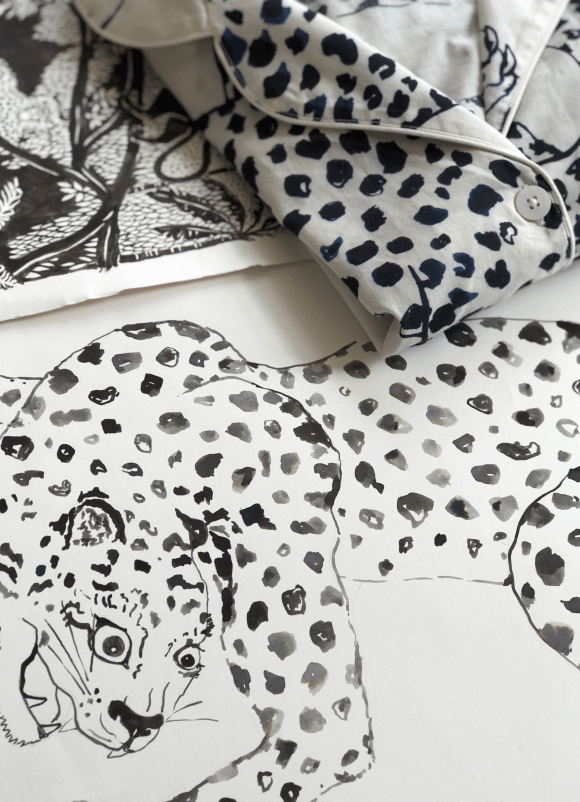 Any favorite styles from the collection?
MG: The new robe is honestly one of the best things we've ever done. And the new
slides are really good.
JJ: Also, we have this incredible Pocket Set for guys that has more of a modern
cut. We were trying to get away from traditional piping, so our styles are a bit more contemporary than that.
And the cotton we do is so nice—really high-quality.
Are you proponents of wearing pajamas outside of the house?
MG: We always talk about the pleasure of leisure—like, not every hobby has to be
a side hustle, and sometimes doing nothing is fun and enjoyable. At the end of the day, we make pajamas: They're
really about celebrating life at home.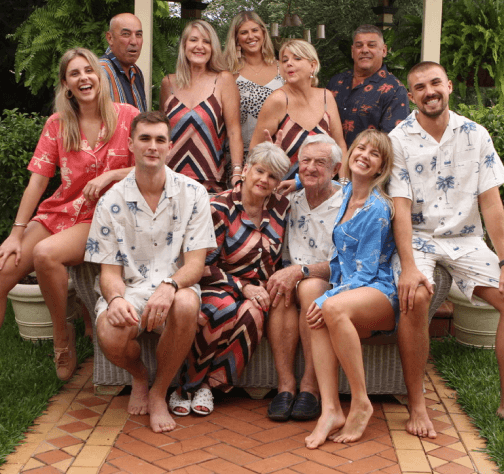 What do the holidays look like for you guys? Do you like to dress up?
MG: The holidays remind me of growing up in Australia where you're in the sun in
a bikini. Every year my mum would give us a pair of pajamas on Christmas Eve so that we could wear them in our
family photo—that tradition kind of stuck. But in London, it's definitely cozier.
JJ: Right, you get dressed up for lunch, and then you get into your elastic
waistband.
MG: Where there's pudding, there should be a drawstring!
Does the whole family get to unwrap Desmond and Dempsey when the holidays roll around?
MG: It's funny, my little brother sent me links to the robe and pajamas he wants
this year. I thought, Oh, very interesting! But my dad has definitely hit his quota.
JJ: My entire family is usually decked out in Desmond and Dempsey during the
holidays.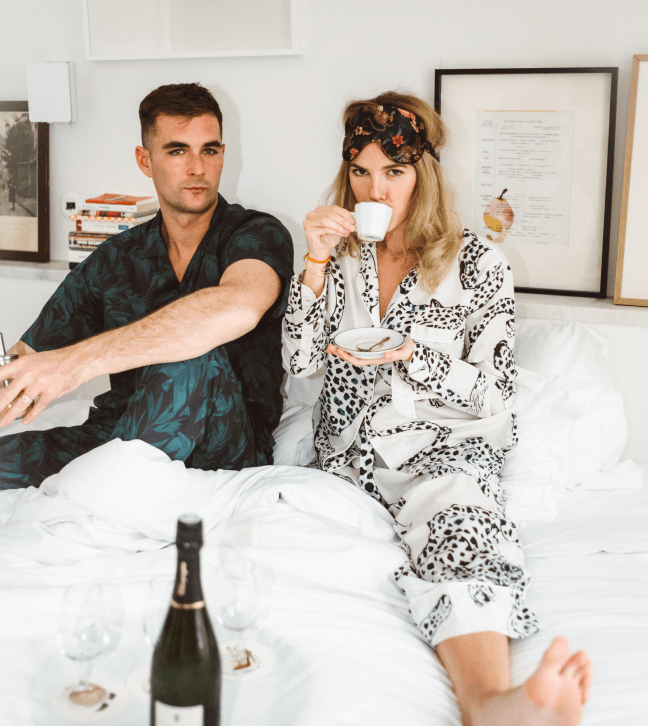 Thoughts on his-and-her matching sets?
MG: Yes, yes, and yes! (Joel is secretly saying yes, too.)
JJ: I like when they're slightly different—different colors or same print but
different styles…
All-time favorite holiday movie?
MG: Love Actually.
JJ: I think I'd go with that as well…
Yea or nay on holiday music?
JJ: Molly has a habit of singing "Jingle Bells" at all times. She'll be in the
shower, belting it out…
MG: That's not exactly true, but I do find it quite relaxing. I love Michael
Bublé and "Jingle Bell Rock."
What's topping your wish lists this year?
JJ: I know what mine is…
MG: Oh, here we go—a new mountain bike?
JJ: A new mountain bike.
MG: Flights home would be nice. Otherwise, I really want a watch.
Favorite holiday beverage?
MG: Champagne!
JJ: Definitely champagne.
And dish?
JJ: Brussels sprouts.
MG: For me, it's all about the prawns at Christmas lunch—in Australia, we'd
always have seafood. I don't always like English appetizers.
JJ: Let's hope mum doesn't read that.
WHAT'S ON MOLLY & JOEL'S WISH LIST